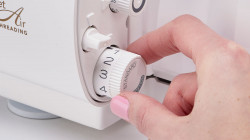 Dial Adjustable Stitch Length and Automatic Rolled Hem
Stitch length can be easily adjusted on a Baby Lock serger using one dial. This dial includes an Automatic Rolled Hem setting that will retract the built-in stitch width finger for a rolled hem finish.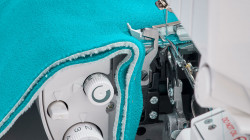 Advanced Knife Driving and One-Way Clutch System
Baby Lock has created a knife system with a larger cutting bite that cuts thicker fabric with ease and increased visibility.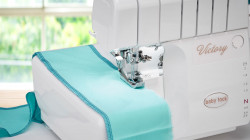 Fabric Support System
The Fabric Support System keeps stitches flat and balanced, no matter what speed, fabric or stitch you choose. The built- in stitch fingers actually move with the knife blade, adjusting the seam concurrently with the cutting width.