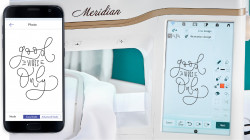 IQ Designer
Create your own embroidery designs with ease. Take a photo with the IQ Intuition Positioning App and wirelessly transmit it to the Meridian! Draw directly on the screen, or if you're feeling inspired by an existing art file, simply upload it to the Meridian through the USB drive. Your art will be instantly digitized with the colors and fill stitches you choose.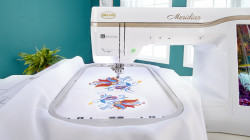 9-1/2" x 14" Embroidery Field
Stitch bigger embroidery designs and enjoy less re-hooping with a large embroidery field.
Needle Beam
Know exactly where the needle will drop every time with a brilliant LED pointer on the included embroidery foot. There's no more guesswork.