28 Built-In Stitches, 1000 Stitches Per Minute
With 28 built-in stitches, including a one-step buttonhole and a maximum stitch width of 7 mm, Jazz is well-equipped to take your creativity to new heights. Keep a quick and steady tempo of up to 1,000 stitches per minute.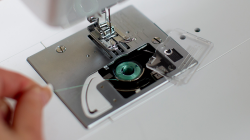 Quick-Set/Top Loading Bobbin
No more struggling with bobbin changes midway through a project. Simply drop in a new bobbin, pull your thread through the guide and Jazz does the rest.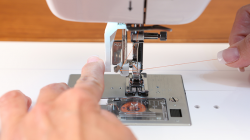 Built-in Needle Threader
With just a few simple motions, your needle is threaded and ready to use. There's no guesswork, no near-misses and no frustration!