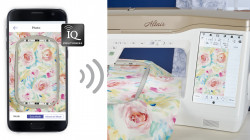 IQ Intuition™ Positioning App
Use the IQ Intuition Positioning App to take a photo of your fabric in a special hoop and transfer it wirelessly to the Altair. The image will display onscreen in lifelike color and sharp resolution, allowing you to position your design exactly where you want it, how you want it – every time.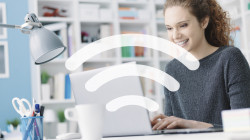 Wireless Capability
Use your favorite embroidery design software like Palette (version 11 or higher, sold separately) to wirelessly transmit your designs from your computer to the Altair.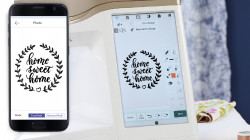 IQ Designer
Create your own embroidery designs with ease. Take a photo with the IQ Intuition Positioning App and wirelessly transmit it to the Altair! Draw directly on the screen or if you're feeling inspired by an existing art file, simply upload it to the Altair through the USB drive. Your art will be instantly digitized with the colors and fill stitches you choose.