Pure Lighting with 3 LED Lights
Clearly see every stitch, fabric and thread color under three bright LED lights.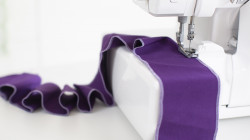 Fabric Support System
The Fabric Support System keeps stitches flat and balanced, no matter what speed, fabric or stitch you choose. The built-in stitch fingers actually move with the knife blade, adjusting the seam consecutively with the cutting width.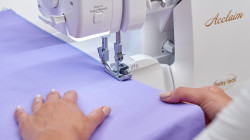 Looper Drive System
This exclusive Looper Drive System prevents loopers from becoming misaligned or out of time, reducing the possibility of major looper damage. This protects your machine from needing repairs, allowing you to serge worry free!